---
Digital land titling opens a new way to secure rights and better livelihoods for the poor in Punjab, Pakistan.
---
Land is an essential resource for sustainable development. Land tenure security is critical for reducing poverty and fragility, increasing food security, addressing climate change, and promoting sustainable urbanization and social inclusion.
For Shahnaz Bibi, a woman farmer in the province of Punjab, Pakistan, acquiring and maintaining a small plot of land was not easy. She struggled for two years to obtain a land title from the local land recordkeepers, called "patwaris," or village officers.   
"They would ask for bribes… It was after a great struggle that I bought this [small piece of] land for my children," said Bibi.  
Shafiq Ahmed from Bhamni Wala in the district of Kasur shared a similar frustration, noting that their land records were not well kept and updated. "You could not find the needed record, especially the older listings," he said.
Worldwide, 7 out of 10 people do not have access to land registration systems that give them a clear, legal title to their property.
For many smallholders like Bibi and Ahmed, having access to a modern, efficient, and transparent land administration system can help end years of vulnerability and provide a secure source of livelihood.
"Land and housing are the most important assets for many people from urban centers to rural areas around the world," said Ede Ijjasz-Vasquez, World Bank Senior Director for the Social, Urban, Rural and Resilience Global Practice. "The World Bank and its partners are working with countries worldwide to build sustainable communities by helping secure land rights for the poor and vulnerable."
[Read: Why Secure Land Rights Matter]
Land titles go digital in rural Punjab
In 2012, the government of Pakistan's Punjab province embarked on a "digital journey" that has transformed the way it manages land records. Supported by the World Bank, the government replaced the error and corruption-prone manual land recordkeeping with a digital "Land Records Management and Information System (LRMIS)" handled by professional staff in 144 modern land record centers across the province's 36 districts.
Within just five years, the project scanned 10 million pages of old records, digitized all land records for over 55 million landowners across the province of Punjab, and made digitalized land title information easily accessible online. As a result, the time needed to complete a transaction dramatically decreased—from 2 months to just 50 minutes.
"This new computerized system has saved us from all that hassle. I came here today and am very happy that the staff is so helpful, and this system is transparent and corruption-free," Bibi said.
According to local officials, the project not only helped to increase land value for landowners, but also empowered women and poor farmers, whose land rights had not been adequately protected in the old system.
"Here [in the new system] everyone is equal, whether as a landlord or a tenant. There is no room for bribery or favoritism," said Mirza Afzal Baig, a young resident in rural Punjab.
---
"The success of the Punjab LRMIS project is a clear example of how technology, when integrated in an inclusive reform process, can effectively help promote land rights and improve service delivery for citizens. This innovative approach shows great potential of creating broader impact to end poverty and boost shared prosperity in Pakistan and beyond."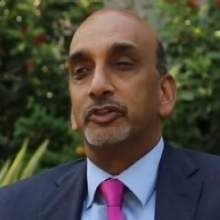 ---
---
Building a community of learning on good land governance
As the government of Punjab looks to expand digital land record management to its urban areas, governments in other countries are increasingly turning to this innovative approach as well. A number of African, Latin American, South Asian, and Southeast Asian countries have already begun efforts to digitalize, correct, and integrate land records.
Using Pakistan's success as a roadmap, an international community of government officials and development experts recently gathered in Bangkok, Thailand to learn and share similar experiences at the Workshop on Land Records Management and Information Systems. Speakers and participants represented 10 countries in Africa, Asia, and Latin America, as well as the World Bank and the Food and Agriculture Organization (FAO).
"The case studies presented allowed the Sri Lankan government officials who participated in the workshop to clarify the roadmap required for a successful transition towards a digital land administration system," said Hafiz Zainudeen, a World Bank Operations Analyst at the Sri Lanka Country Office. "The workshop also helped strengthen inter-agency ties, and placed a stronger emphasis on ensuring future land administration reforms were citizen centric."
"Sierra Leone shares similar challenges and historic background related to land management and administration with some of the countries represented at the workshop," said Dr. Alphajoh Cham, Deputy Director of Planning, Policy and Project Development at Sierra Leone's Ministry of Lands, Country Planning and the Environment. "These technical and practical exchanges will be very helpful in the future as we prepare to implement similar projects in land records management and information systems."
"The first thing I got from [the workshop] was that we are on the right path to land registration reform," said Benjamin Arthur, Chief Land Administration Officer at the Lands Commission of Ghana. "Looking at the experiences that other countries have shown gives us more impetus to move on."
Land is at the center of many development challenges. The UN's Sustainable Development Goal has set the target of "all men and women having equal rights to ownership and control over land by 2030." Much more remains to be done, and the World Bank remains committed to working with countries and partners worldwide to make land work for everyone, and protecting our most precious asset for a resilient, prosperous, and sustainable future.